Masai Mara
Luxury Migration Camp
Soroi Luxury Migration Camp meanders along the seasonal Olare Orok River in the Masai Mara and echoes "authentic luxury" from when you arrive.
Soroi Luxury Migration Camp has eight river-facing luxury tents and two family units, complemented by our photographic lounge, al-fresco dining area and hippo pool.
Our oversized luxury tents are elevated from the ground and have floor-to-ceiling glass that invites nature in. Each meticulously designed tent has a cosy four-poster bed, en-suite bathrooms, an array of comfort amenities, not to mention a private veranda. Our luxury family unit has two bedrooms with en-suite bathrooms. A private lounge separates the bedrooms and forms an ideal space where everyone can unwind and reconnect.
Whether it's from the comfort of your luxury tent, our comfortable lounge, or simply indulging in the ambience of our campfire, come and unwind at Soroi Luxury Migration Camp, and experience the sounds and sights of wildlife.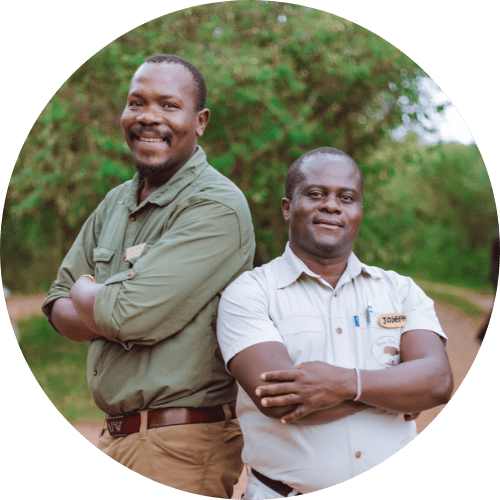 "We're always available to meet every guest's needs… moreso exceed their expectations"
Nelson & Joseph
Discover Our
Luxury Tents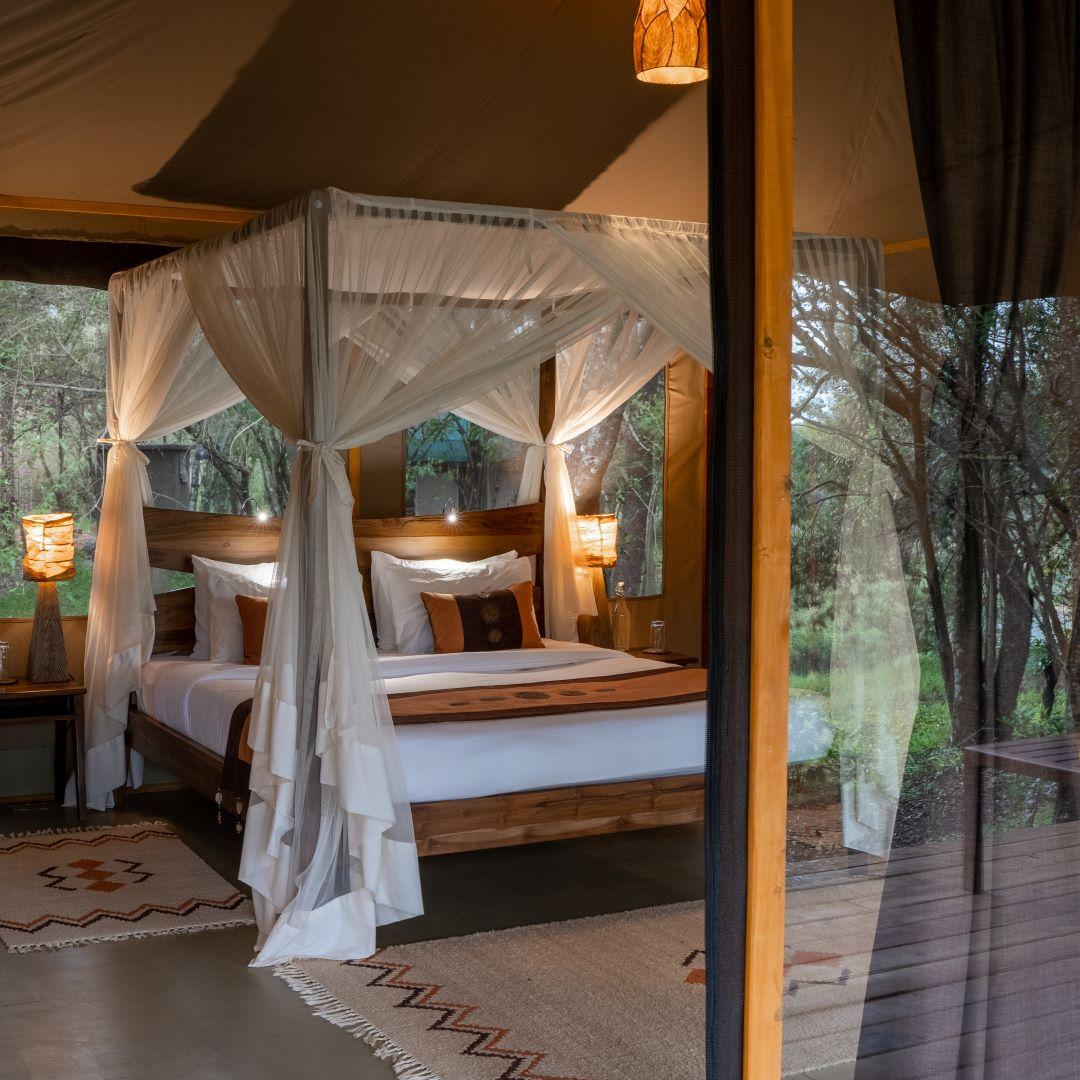 River-Facing Luxury Tents
8 luxury river-facing tents that are spacious and designed with great attention to detail, providing all amenities found in a hotel room, yet, with an eco-friendly approach!
Glass-fronted room
King-size bed & a single bed
Extended verandas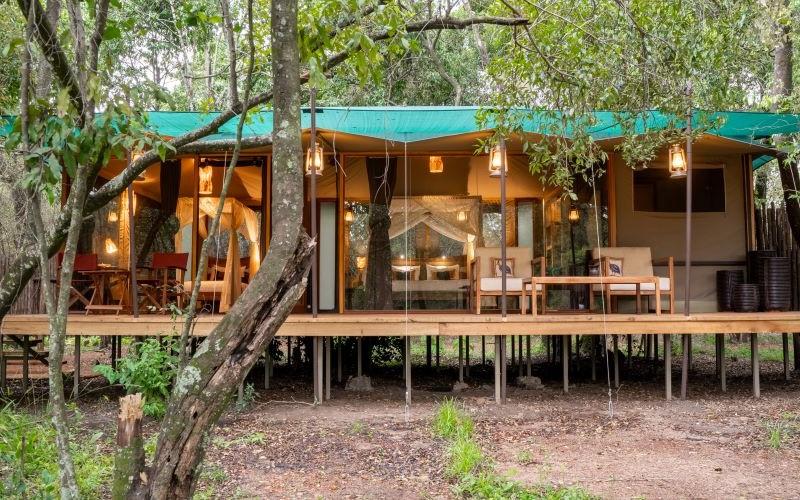 Luxury Tent
8 luxury river-facing tents that are spacious and designed with great attention to detail, providing all amenities found in a hotel room, yet, with an eco-friendly approach!
Glass-fronted room
King-size bed & a single bed
Extended verandas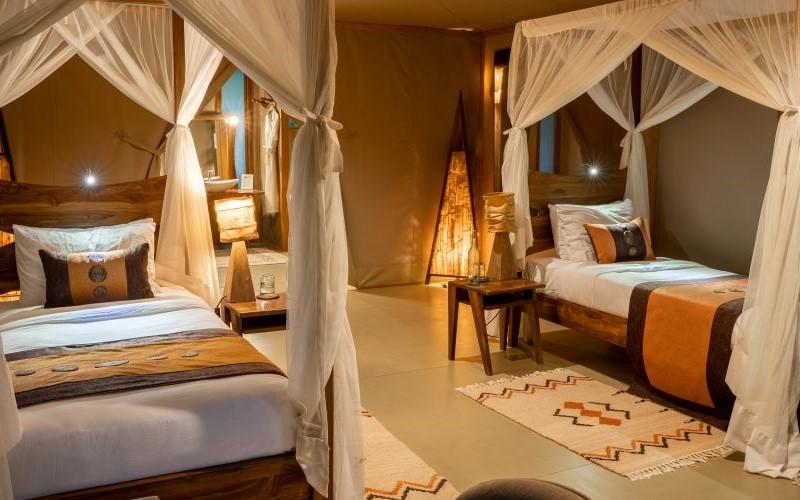 Family Unit
2 luxury family units with 2 separate rooms & a lounge area, comfortably accommodating up to 4 adults. Our family units overlook the river.
Glass-fronted rooms
Private Lounge
King-size bed & 2 single beds
Food & Drink
In-House Meal Service
Daily Seasonal Breakfast
Start your day with a delicious breakfast in a scenic location of your choice, prepared just as you like by our chef and his team. Enjoy freshly squeezed juices, a full English breakfast, homemade muffins and bread, fresh fruit platters or breakfast parfait.
Coffee, Tea, Water, & Assorted Beverages
Complimentary coffee, tea, water, and assorted beverages are available throughout the day at our camp.
Lunch and Dinner
Our plated 4-course dinners entice every palette. Our chefs always cook up delectable dishes.
Safari & Activities
In-house accredited English safari guides
Our knowledgeable and highly experienced guides and staff are always on hand to keep you informed during your safari. The Kenya Professional Guides Association accredits them and is very knowledgeable about the flora and fauna of the Masai Mara.
Twice Daily Scheduled Game Drives
Our custom-built 4×4 safari vehicles are stationed at the camp and can be available to book for exclusive use during your stay with an experienced professional driver guide. Enjoy a thrilling game drive and see unique wildlife up close.
Bush Meals
Enjoy a romantic dinner for two under the stars, surrounded by trees and bushes, with lanterns to add to the ambience. Indulge in a delicious 4-course meal with unlimited soft drinks and a complimentary bottle of wine.
Cultural Visits
Visit a traditional Maasai Village and discover their "way of life". Your guide will transfer you to and from the village. With this village visit, we support the local community in the area, as most proceeds will go directly to them.
Hot Air Ballooning
xperience the magnificent landscape and fantastic wildlife of the Masai Mara from the air with a hot air balloon ride. A sumptuous champagne breakfast awaits you upon landing. 
Complimentary WiFi
Stay connected with complimentary Wi-Fi available throughout the camp, including in your luxury tent. If you need to catch up on work or share your safari experiences with loved ones back home, our reliable Wi-Fi will keep you connected.
Photography Lounge
Our featured Photography Lounge is designed with photographers in mind. With charging points for your equipment and a projector and screen available, it's an ideal space for photographic workshops and editing your wildlife shots.
Comfortable Tents
Experience our unique and personalized eco-conscious luxury accommodation at the Luxury Migration Camp with our highly service-oriented team. Our beautifully appointed tents offer all the comforts you need for an indulgent stay.
Campfire Conversations
End your day with Campfire Conversations overlooking the river and under the stars. Relax in comfortable canvas chairs while you share stories of your wildlife encounters and enjoy cold drinks and hot/cold canapés. It's the perfect way to reflect on your day in the African bush.
24-Hour Security
Your safety is our top priority at Luxury Migration Camp. Although our camp is unfenced to offer an authentic bush experience, we have Maasai Guards stationed around the camp and one assigned to each tent to ensure the safety of our guests.
Spa Treatments
We offer in-room massages by our expert therapists, who will help you unwind and rejuvenate.
Sustainable Solar Power
At Luxury Migration Camp, we're committed to sustainability. Our camp is powered by a large solar station, with a backup generator provided. Our solar batteries don't use acid or distilled water and don't degenerate, and we use LED bulbs to save energy. We even store all our fruits and vegetables in charcoal stores to avoid using fridges.
Guided Bush Walks
Experience the African bush on foot with our Walking Team and an armed ranger as your guide. Learn about the small five, identify animal tracks, and differentiate the droppings of different wildlife as you explore the bush outside the reserve.
Sundowner Drinks
Unwind during your afternoon/evening game drive with private Sundowner Drinks set up just for you. Enjoy your choice of local branded spirits, house wine, beer, and soft drinks, accompanied by homemade canapés, while watching the sunset over the African plains and hippos laze in the nearby river.
Have a Question?
Talk to Us
Information
Location & Nearby Attractions
Hot Air Ballooning
Experience the Masai Mara from above with a hot air balloon ride, a highlight of any safari in East Africa.
Migration River Crossings
Witness the breathtaking spectacle of the wildebeest migration river crossings, usually between July and October.
Horseback Adventures in the Mara
Experience the Masai Mara from a different perspective with a horseback safari adventure.
Cultural Visists
Visit a traditional Maasai Village and discover their ways, which have remained unchanged for hundreds of years.
Photographic Safaris
Our camp offers some of the country's best photographic guides and photographically adapted vehicles, making it the perfect location for a photographic safari.
Bush Walk
Explore the surrounding area on foot with a guided bush walk.
Soroi Luxury Migration Camp