Lumo Conservancy – Tsavo
Leopards Lair
About Us
An intimate camp surrounded by breathtaking views
Experience the beauty of Africa's sunrise and revel in the panoramic views of Tsavo's wilderness at Soroi Leopards Lair. Situated on the same hill as Soroi Lions Bluff Lodge, this small lodge provides an untamed safari experience and an exhilarating wilderness escape.
The four en-suite cottages were constructed using local materials and colours, which blend seamlessly with the stunning scenery of the Lumo Conservancy. Each cottage boasts a spacious veranda that overlooks a vast area of the greater Tsavo ecosystem – from the Taita Hills to Mukamazi in Tanzania, with Mt Kilimanjaro as the backdrop.
Enjoy a unique and unforgettable stay in Soroi Leopards Lair, where you can witness the beauty of nature up close without breaking the bank.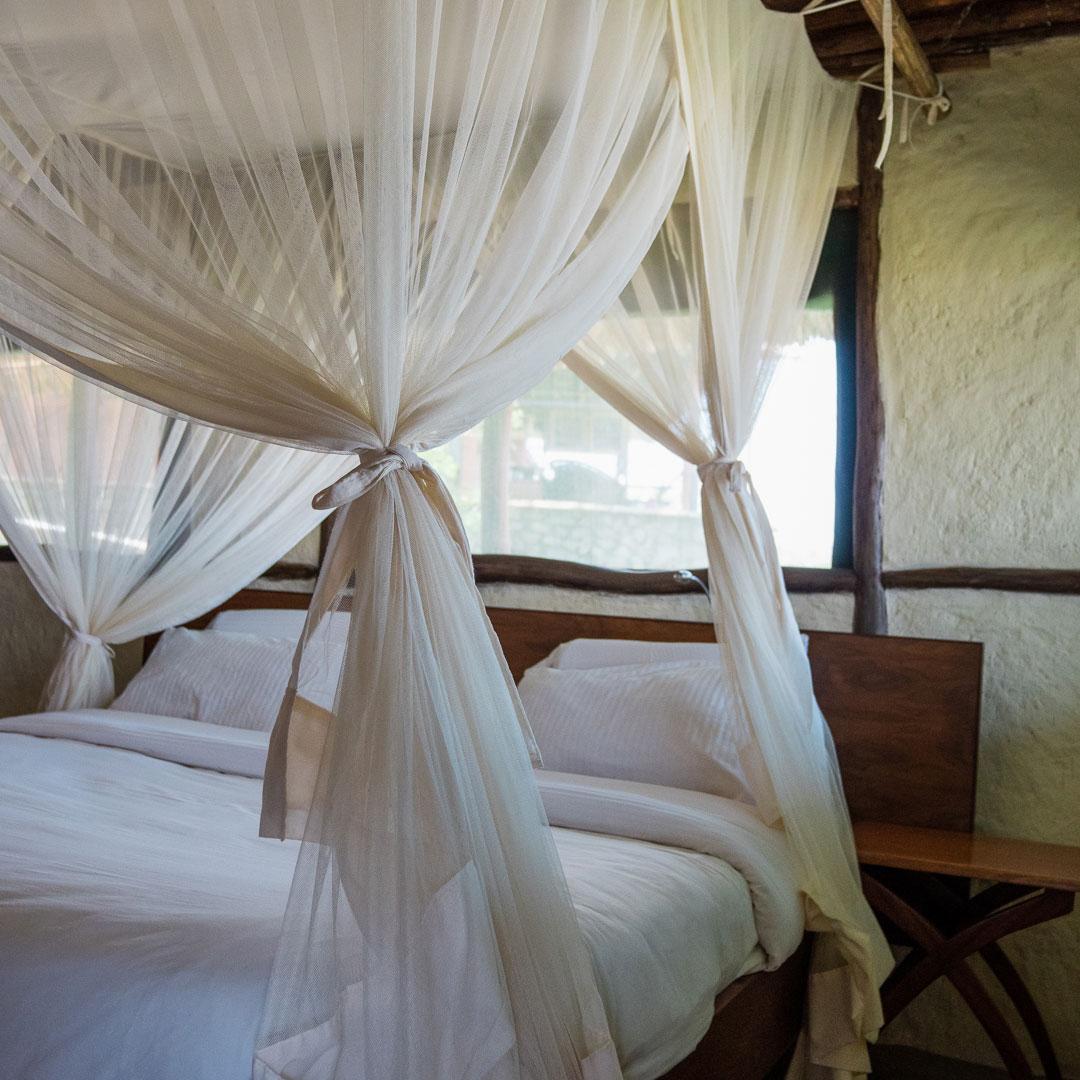 4 Intimate Cottages
Awake to Africa's incredible sunrise, ready to enjoy panoramic views of the Tsavo wilderness. 
Endless Views
King-size bed
Indoor and Outdoor shower
Food & Drink
In-House Meal Service
Daily Seasonal Breakfast
Start your day with a delicious breakfast in a scenic location of your choice, prepared just as you like by our chef and his team. Enjoy freshly squeezed juices, a full English breakfast, homemade muffins and bread, fresh fruit platters or breakfast parfait.
Coffee, Tea, Water, & Assorted Beverages
Complimentary coffee, tea, water, and assorted beverages are available throughout the day at our camp.
Lunch and Dinner
Our plated 3-course dinners entice every palette. Our chefs always cook up delectable dishes.
Safari & Activities
In-house accredited English safari guides
Our knowledgeable and highly experienced guides and staff are always on hand to keep you informed during your safari. The Kenya Professional Guides Association accredits them and is very knowledgeable about the flora and fauna.
Twice Daily Scheduled Game Drives
Our custom-built 4×4 safari vehicles are stationed at the camp and can be available to book for exclusive use during your stay with an experienced professional driver guide. Enjoy a thrilling game drive and see unique wildlife up close.
Bush Meals
Enjoy a romantic dinner for two under the stars, surrounded by trees and bushes, with lanterns to add to the ambience. Indulge in a delicious 4-course meal with unlimited soft drinks and a complimentary bottle of wine.
Cultural Visits
Visit a Taita Village and discover their "way of life". Your guide will transfer you to and from the village. With this village visit, we support the local community in the area, as most proceeds will go directly to them.
Night Game Drives
A uniquely specialised safari, not generally permitted within the National Parks and Reserves boundaries, is a night game drive, the ultimate safari luxury experience.
Complimentary WiFi
Stay connected with complimentary Wi-Fi available throughout the camp, including in your luxury tent. If you need to catch up on work or share your safari experiences with loved ones back home, our reliable Wi-Fi will keep you connected.
Guided Bush Walks
Experience the African bush on foot with our Walking Team and an armed ranger as your guide. Learn about the small five, identify animal tracks, and differentiate the droppings of different wildlife as you explore the bush outside the reserve.
Campfire Conversations
End your day with Campfire Conversations overlooking the river and under the stars. Relax in comfortable canvas chairs while you share stories of your wildlife encounters and enjoy cold drinks and hot/cold canapés. It's the perfect way to reflect on your day in the African bush.
24-Hour Security
Your safety is our top priority at Luxury Migration Camp. Although our camp is unfenced to offer an authentic bush experience, we have Maasai Guards stationed around the camp and one assigned to each tent to ensure the safety of our guests.
Sustainable Solar Power
We're committed to sustainability. Our camp is powered by a large solar station, with a backup generator provided. Our solar batteries don't use acid or distilled water and don't degenerate, and we use LED bulbs to save energy. We even store all our fruits and vegetables in charcoal stores to avoid using fridges.
Sundowner Drinks
Unwind during your afternoon/evening game drive with private Sundowner Drinks set up just for you. Enjoy your choice of local branded spirits, house wine, beer, and soft drinks, accompanied by homemade canapés, while watching the sunset over the African plains and hippos laze in the nearby river.
Have a Question?
Talk to Us
Information
Location & Nearby Attractions
Night Game Drive
A uniquely specialised safari, not generally permitted within the National Parks and Reserves boundaries, is a night game drive, the ultimate safari luxury experience.
Cultural Visists
Visit a Taita Village and discover their ways, which have remained unchanged for hundreds of years.
Photographic Safaris
Our camp offers some of the country's best photographic guides and photographically adapted vehicles, making it the perfect location for a photographic safari.
Ornithological Walks
With over 1,070 species of birds, Kenya has the second highest country bird list in Africa, while the area around Tsavo West boats 600 recorded species.
Soroi Leopards Lair Cottages